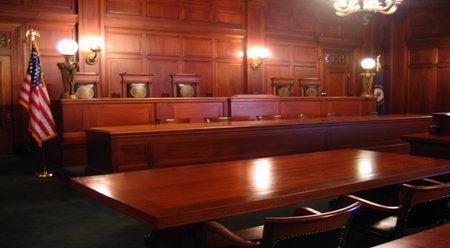 Community events the Court has participated in the past have included:
Law Day
Law Day began in 1961 as a one-day observance on May 1st and has since evolved into a month-long opportunity for civics education. Throughout the month of May, the legal community reaches out to local communities to simulate critical thinking and appreciation of the rule of law. Many federal courts, including the Northern District of New York, open their doors in May to bring the next generation of jurors into courtrooms to participate in the judicial process.
Mock Trials
Mock trials may be useful for students to gain a greater understanding of the legal process. In the past, the Northern District of New York has hosted mock trial competitions and championships for county bar associations.
Upcoming Mock Trials:
Naturalization Ceremonies
Please click here to view the Naturalization Ceremony schedule. It is recommended to contact the Court approximately 1 to 2 weeks in advance to ensure the ceremonies are running according to schedule. Ceremonies are typically 1 to 1.5 hours long.
Reenactments of Historical Cases
Previous reenactments have included:
---
United States v. Susan B. Anthony
Through newspapers and published accounts, a national audience learned of the federal trial of Susan B. Anthony on the criminal charge of voting without a right to the franchise. The trial and conviction of the well-known leader of the woman suffrage movement dramatically revealed the denial of women's voting rights at the time that the nation was debating the expansion of political rights and constitutional protections of those rights in the aftermath of the Civil War. Anthony's vote, and that of other women, was part of an organized strategy to win in the federal courts a recognition of what the women argued was their constitutional right to vote, guaranteed by the recently ratified Fourteenth Amendment. The trial of Anthony and the legal setbacks faced by other women who attempted to vote in 1872 led to a new strategy for the woman suffrage movement and a determination to secure a separate constitutional amendment to protect women's right to vote, a struggle that continued until the ratification of the Nineteenth Amendment in 1920.
Bruce Ragsdale, editor
Director, Federal Judicial History Office, Federal Judicial Center
---
United States v. Rosenberg, et al.
In the midst of this heightened concern about Communist subversion, Julius and Ethel Rosenberg were charged with conspiracy to commit espionage on behalf of the Soviet Union. They were alleged to have transmitted to the Soviets material related to perhaps the greatest object of American anxiety: the atomic bomb. A chain of arrests beginning in early 1950 led the authorities to David Greenglass, a U.S. Army officer who was alleged to have stolen classified information from the atomic bomb program in Los Alamos, New Mexico, where he worked. Greenglass claimed that he and his wife, Ruth, had been coaxed into espionage by his sister, Ethel Rosenberg, and her husband, Julius, both of whom were Communists. It was the Rosenbergs, he said, to whom he passed the information he stole, so that they could deliver it to the Soviets. Although the government had little evidence of Ethel's involvement, FBI Director J. Edgar Hoover wanted her charged as a means to pressure Julius to name other members of the spy ring.
Anonymous
The Rosenberg Trial, Federal Judicial Center